Our veterinarians and staff are passionate about the health of our community's
pets and livestock. We are a well-rounded team that prioritizes keeping up with
the latest trends in the industry, while balancing those trends with knowledge
achieved through years of experience. Each of our veterinarians has a key area of
interest to ensure we can provide the best care for your individual pet or
livestock concerns. Find out more about our welcoming team make an
appointment to get to know us in person.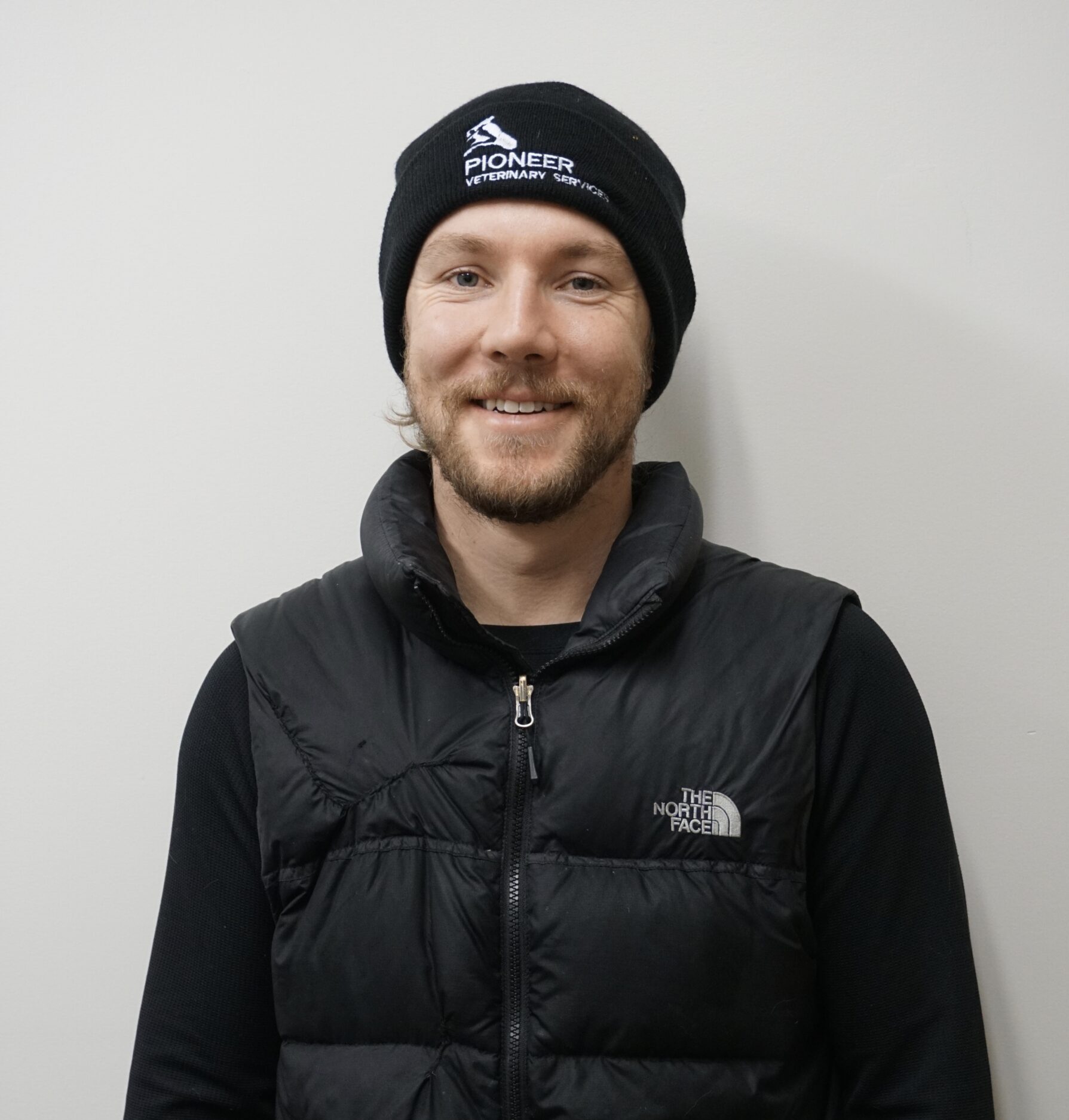 Dr. Hans Reimert
Full-Time Veterinarian and Co-owner
Hans Reimert was born and raised on a dairy farm west of Bowden. His interest in the dairy industry led him to the Western College of Veterinary Medicine in Saskatoon, Saskatchewan. After graduation he returned to the central Alberta region to provide veterinary care to both large and small animals with a strong interest in Dairy herd health and other bovine work. Along with bovine work, business ownership remained a strong interest for Hans which led to the recent co-ownership of Pioneer Veterinary Services and associated clinics operating within the Sundre and Olds region. Although he currently spends the majority of his time on the road with his herd health work, Hans looks forward to meeting more of the community in the years to come.
Outside of work, Hans enjoys helping on the family farm and a variety of outdoor activities with Haley and their dog Winnie.
Dr. Haley Safnuk
Full-Time Veterinarian and Co-owner
Haley was born and raised in Prince Albert, Saskatchewan where she was an active member of a local Light Horse 4-H club for over 10 years. Her interest in horses led her to pursue a degree at the Western College of Veterinary Medicine in Saskatoon, Saskatchewan. Following graduation, she elected to further her education by completing an Equine Internship in Arizona, focused on sport horse and race track medicine. Since completion she has joined Hans to practice in Central Alberta. Haley is a Co-Owner, along with Hans Reimert, of Pioneer Veterinary Services and associated clinics. She enjoys both small animal and equine work and is a certified Veterinary Medical Acupuncturist.
She enjoys providing compassionate veterinary care with an emphasis on communication and client education. Haley is looking forward to meeting more members of the community.
Between reading business management books, Haley enjoys backpacking and outdoor activities such as hiking and canoeing with Hans and Winnie. She also hopes to find time to get back on a horse one day soon.
Hailing from South Africa, Michael obtained his degree of Veterinary Medicine from the University of Pretoria in 1981 and later became a member of the Royal College of Veterinary Surgeons. With his vast array of experience, there is quite literally no creature that Michael is unable to treat. However, his primary interest is equine medicine and surgery as well as small ruminants. He spends the majority of his work day in the Sundre and Caroline area, but is always willing to travel far and wide for his clients.
Outside of work Michael enjoys spending time with his wife outside playing golf or tennis. They also enjoy travelling, spending time on the West Coast and in South Africa.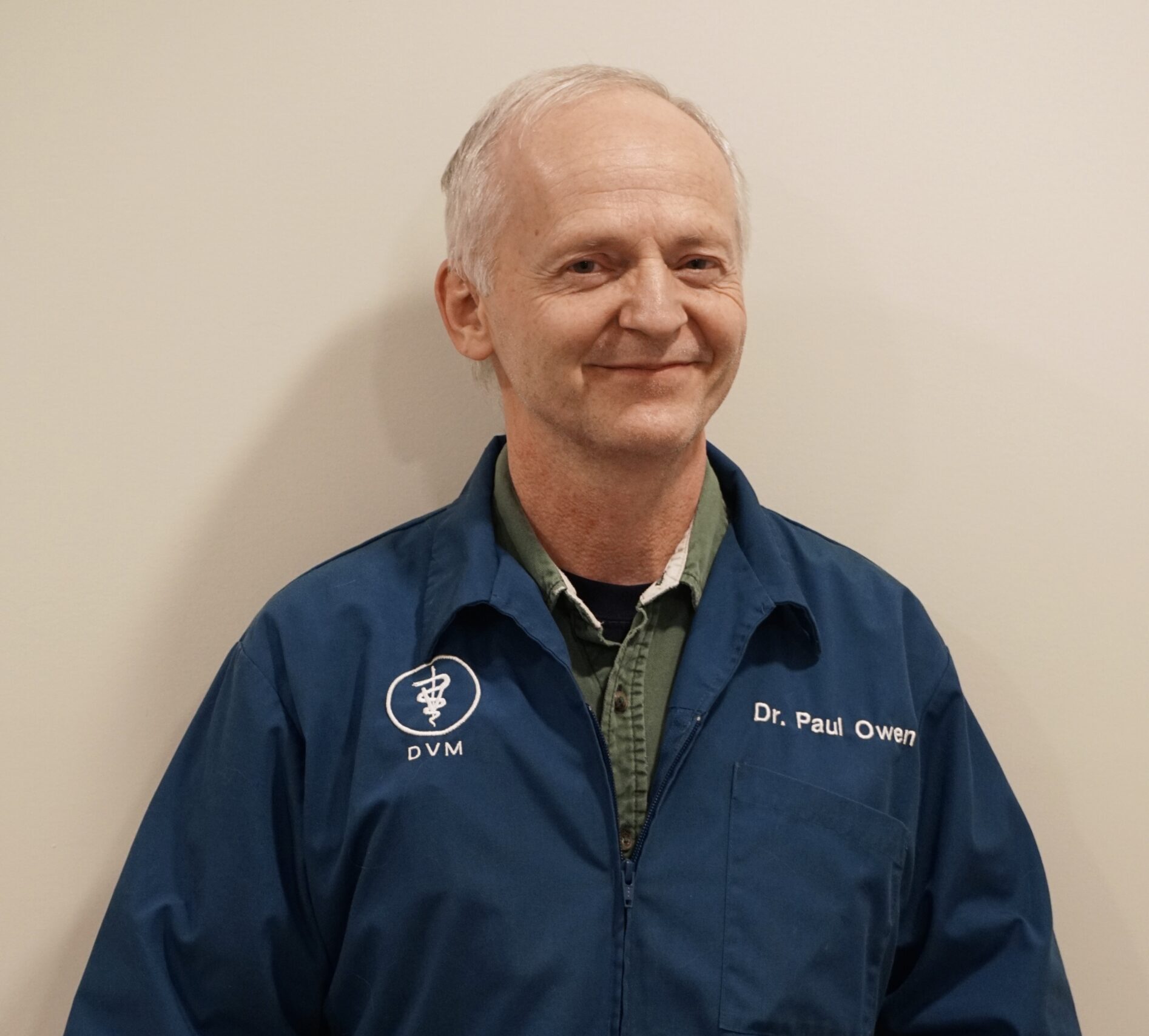 Originally from Edmonton, Alberta, Paul has been practicing mixed animal medicine in central Alberta since his graduation from WCVM in 1985. Paul is known for his attention to detail, meticulous nature, and compassion. His primary interests include small animal medicine and surgery. Continued education is a priority for Dr. Owen, who frequently attends specialized lectures and labs to continue to provide up to date, high quality veterinary care out of our Olds location (Olds Veterinary Centre).
When not working, Paul enjoys spending quality time with his three grown sons Joel, Luke and Liam. He is also an avid hiker, golfer and tennis player and looks forward to challenging Dr. Wilson on the courts when he can.
Louisa was born and raised on a mixed cow-calf and grain operation in Vulcan County. Her interest in the beef industry led her to the University of Alberta to study Agriculture. Following a 6-month exchange program to Australia, Louisa opted to pursue Veterinary Medicine at the University of Sydney. Living in Australia for 5 years permitted Louisa to explore her passion for livestock medicine and the Australian cattle industry. It also allowed her to study medicine in a range of species from cattle and sheep to reptiles and native marsupials. Following graduation in December 2018, Louisa returned to Alberta to pursue her interests in livestock and small animal medicine. She is very excited to meet community members and their companions. Outside of work Louisa enjoys helping on the family farm and is an avid sports enthusiast. She also enjoys long hikes with her Australian imports: rescue dogs Ava and Dexter and fiancé Nick.
Fiona was born in Rossland, BC on a dairy farm. At the age of 9, they moved to Sundre, AB where Fiona was a member of the Bergen 4-H club for 6 years where she had many beef projects and also had canine projects for 2 years with her Red Heeler, Lucy. Her family also ran a Katahdin sheep farm. Her love for all shapes and sizes of animals began at a very early age and led her to begin education at Mount Royal University, majoring in Cellular and Molecular Biology, with her end goal always being Vet Med. After three years at MRU, she was accepted to the Western College of Veterinary Medicine in Saskatoon in 2015, graduating in 2019. Following graduation, Fiona returned to her home town of Sundre to begin pursuing her career at Pioneer Veterinary Services! Fiona's passions include cats, cows, and small ruminants – but all animals have a special place in her heart. Outside of work, Fiona enjoys playing golf, horseback riding, reading books, and spending time with family and friends
Lisa graduated from the Western College of Veterinary Medicine in 2015, and after spending a year working and travelling in Australia, returned home to settle into mixed animal practice. Lisa enjoys every facet of veterinary medicine, but has a primary focus in small animal dentistry, surgery and ultrasound, as well as a keen interest in small ruminants and camelids. Although her passion for animal health and welfare led her to become a vet, she loves the team she works with and the clients she interacts with – they make every day special! In her spare time Lisa enjoys yoga, snowboarding, cooking, reading, or any excuse to be outdoors. She lives in Old's with her spouse, Joedy, and their 2 cats and dogs.
Thanks for taking the time to read about our fantastic staff. Not only do I have the pleasure of working alongside these great people, I get to do what I love: business administration. This means, I back the operations with, financial interpretation and analysis, human resources support, property and equipment management, supplier correspondence, legislative reporting, marketing, communications and public relations. On that note, I want to hear from you, if you have concerns about our clinics at admin@pioneervet.ca. Of course, we appreciate your accolades as well, to understand what we are getting right but also to celebrate our supporters. Thank you for entrusting your livestock and companion animals, into our care.
Photo credit: Erica Vincent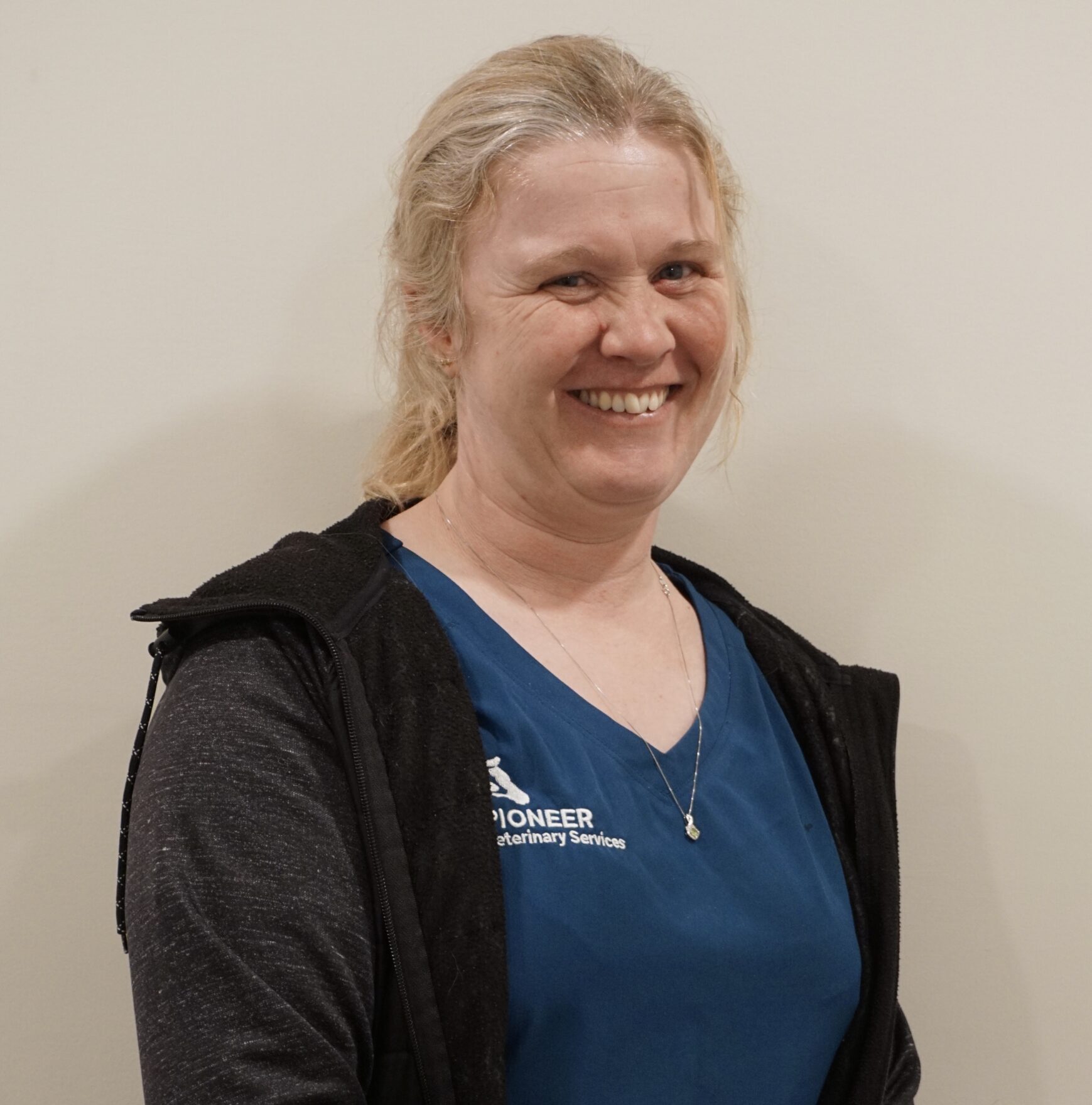 Born and raised on a farm in the Cremona AB area, Nicole joined the Olds Vet Centre in March 2018. In 2011, she graduated from the Veterinary Medical Receptionist program at the Olds College. Nicole's farming background is evident with her strong work ethic, attention to detail and wealth of large animal knowledge. Nicole loves seeing new and old clients along with their animals. In her spare time, Nicole enjoys farming, riding her horses and working with her Polled Hereford and Black Angus cattle.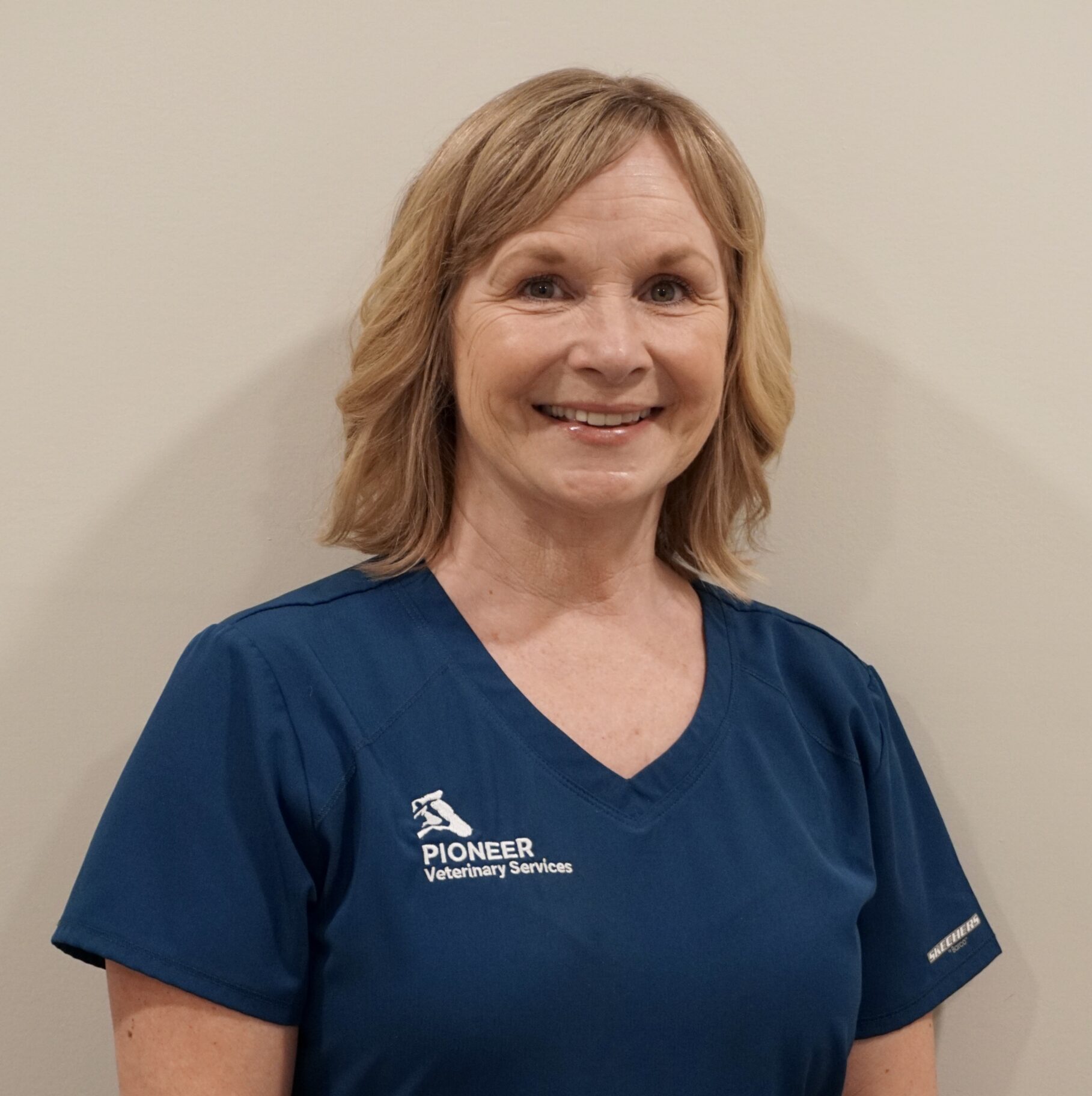 Dennise has worked in the veterinary field for many years and joined the Pioneer Vet team in August 2020. Dennise grew up in the Olds area and currently resides west of Didsbury. In her spare time she enjoys spending time with her family and gardening. At home she has 2 dogs (Juno and Beau) and one cat (Matthew).
Erin joined the Pioneer team shortly after completing the Veterinary Medical Reception program at the Olds College in June 2021.  She brings with her years of previous professional experience which has greatly helped her transition into the reception position in the Olds location. 
She grew up on a small family farm near Kathyrn, Alberta and has called the Sundre, Olds area home for 25 years.  In her spare time she enjoys quadding, camping and horseback riding with her family and friends.  
Erin's love of animals is very apparent in her lifestyle and shines through with her compassion and empathy for our clients and patients.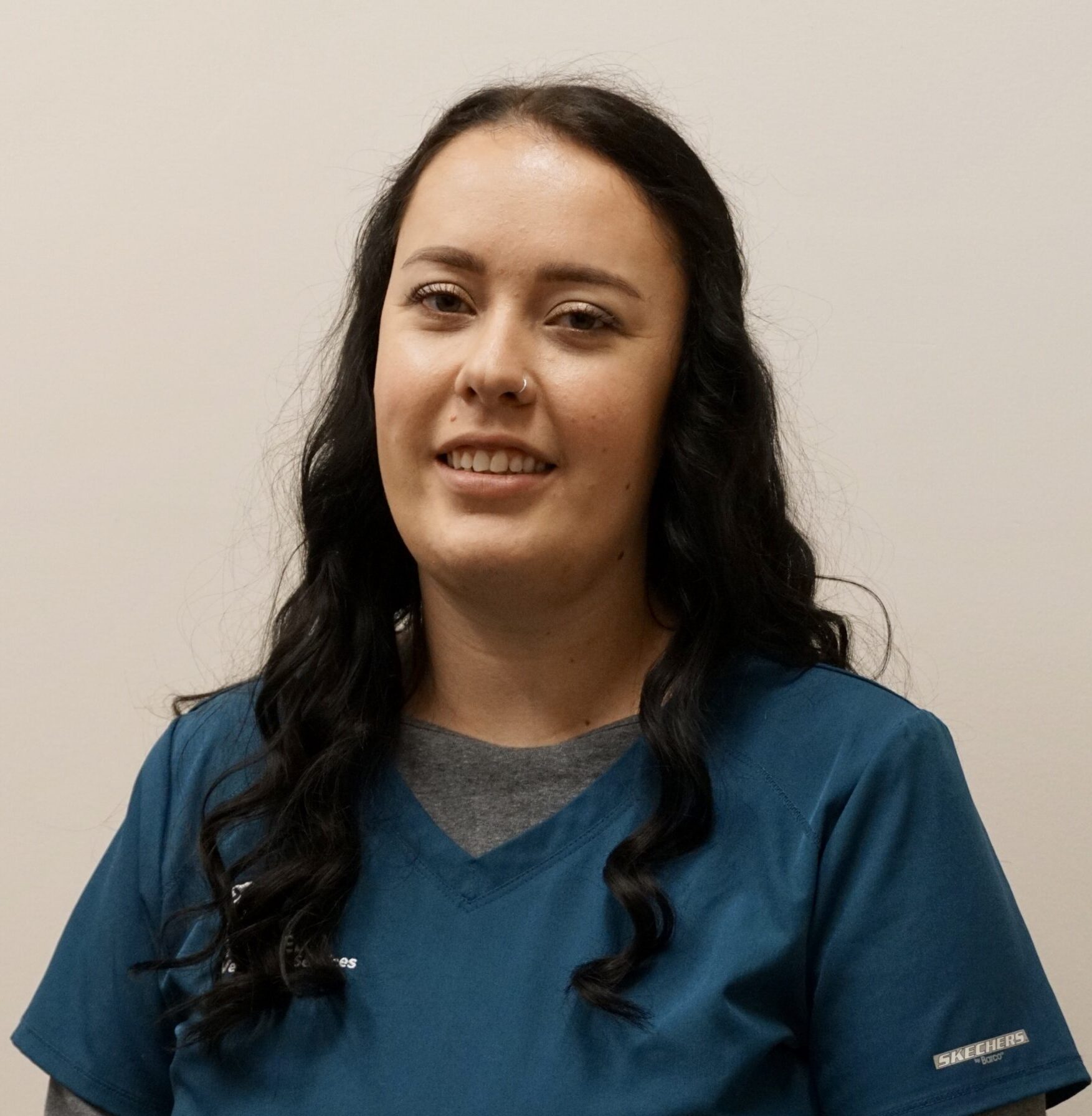 Alyssa Muters
Receptionist/Tech Assistant
Born and raised in Sundre, Alyssa joined our team in July of 2018. Growing up around horses and cows and being involved in the Bergen 4-H multi club, Sundre and District Light Horse Association, and the Sundre Pro Rodeo is what encouraged Alyssa to pursue her education in the wonderful world of veterinary medicine. She is currently enrolled in school to join our team of registered veterinary technologists. When not studying or working Alyssa is surrounded by anything equine, if there is a horse involved, you can bet she will be there. Alongside her husband Matthew they can be found camping, quadding, and helping at her grandparent's ranch in Bergen. Alyssa is happy to call Sundre her home and can't wait to see where Pioneer Vet will take her in her future career.
Sierra grew up in the Caroline area with dogs and horses always at her side. After getting married, Sierra and her husband headed out to work on large scale cattle ranching operations over the course of 10 years, where passion for cows, using horses and stock dogs grew as did their family. Sierra and her family now find themselves back in the Caroline area. Sierra loves to spend time with her 2 young kids and her husband. Sierra loves what they brought with them back home, not just their experiences but their ranch horses, stock dogs, as well as a small flock of Gotland sheep. Cows are on the docket for the future if stars align. Sierra looks forward to engaging with those who come through the doors as well as expanding her knowledge and experience with all walks of life in her time with the clinic as one of the receptionists.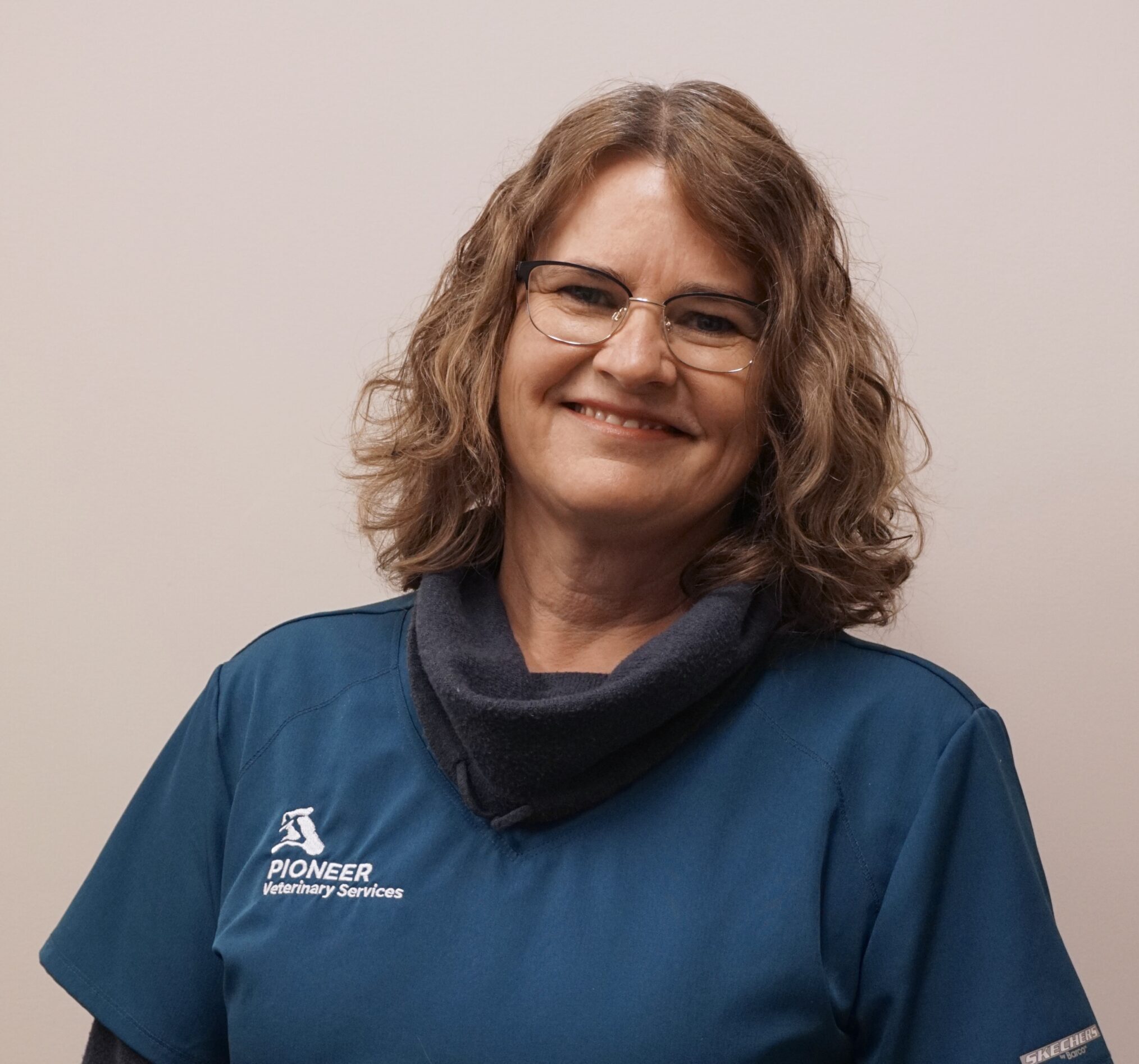 Born and raised in Ontario, Janet moved to BC after highschool and become a 1990 AHT graduate of what is now TRU. Her and her husband Ross raised beef cattle as well as small flock of sheep until their move to the Sundre Area in 2016. Janet joined the Pioneer team in November 2020 and spends her spare time farming, gardening, woodworking or travelling between BC and Alberta to spend time with their 3 children.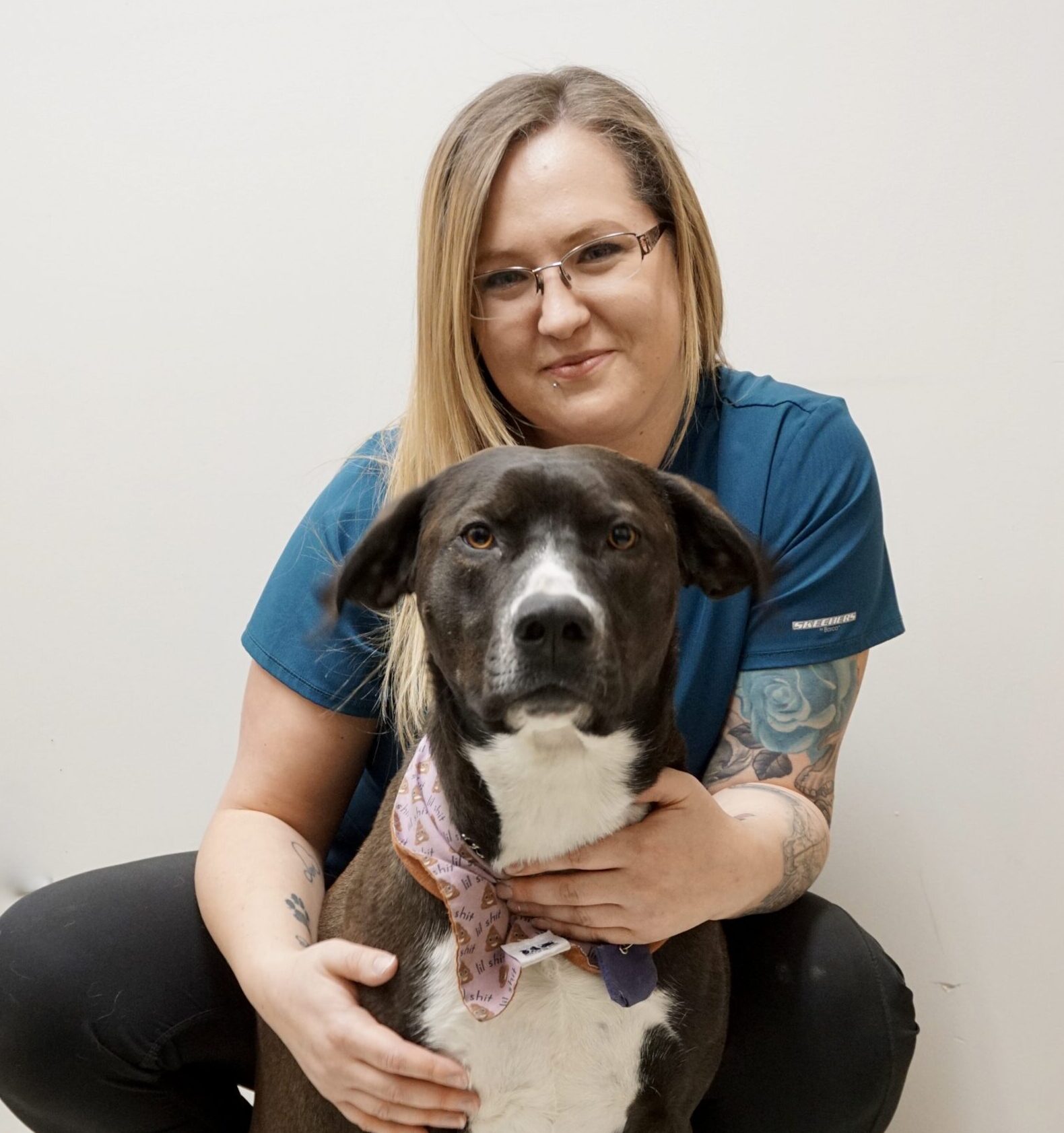 Nici Klotz
Registered Veterinary Technologist
Nici is a country girl originally from Drayton Valley. She started out in the BSc program at the U of A then found her passion through the AHT program at NAIT. After graduating in 2017, she joined the practice shortly after. Her main passions in and out of the workplace are equine and exotics. She has a horse (Beau), two dogs (Paisley and Mikey) and two cats (Luna and Felix) at home. Outside of work, Nici enjoys trail riding, reading, drawing and camping. In the future, she hopes to specialize in equine medicine and become certified in equine massage and joint manipulation.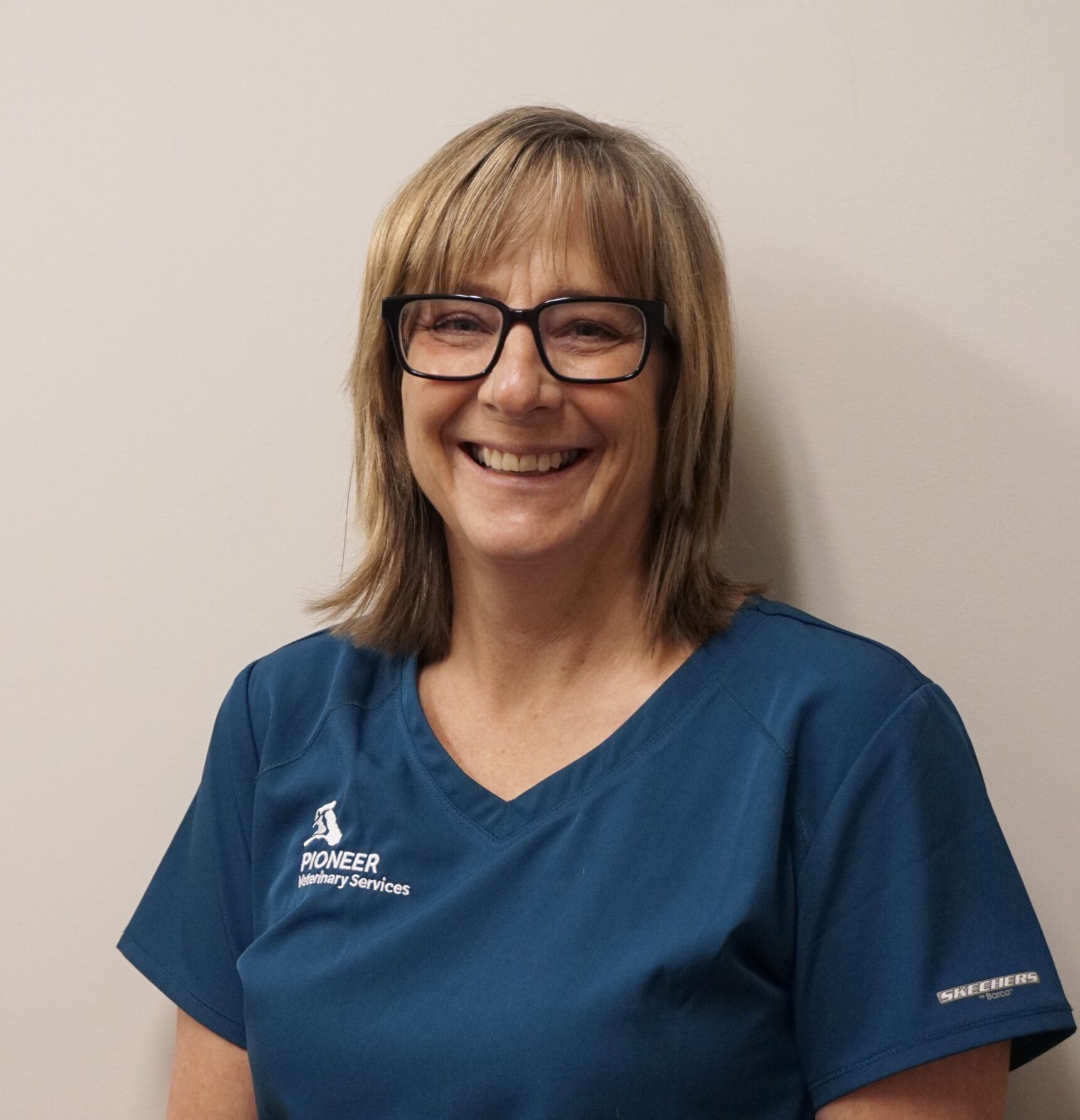 Marian Johnson
Registered Veterinary Technologist / Practice Manager
Originally from the Sundre area, Marian is a 1987 graduate of the Olds College Animal Health Technology program. Joining Pioneer Vet in spring of 2018, Marian has used her invaluable experience to take on a mentor-ship role within the clinic. As a long time resident of the Sundre area, Marian may be a familiar face to you. Along with her husband Bryan, Marian enjoys spending time with her four daughters and grandkids on their farm in Bergen. She loves all her animals, which include cows, horses, cats and their dog Dottie. Her favorite pastime is riding in the mountains, hiking and quading with her husband.
Lakyn Montgomery
Registered Veterinary Technologist
Lakyn was born and raised in Rocky Mountain House, AB. From a young age, she's had a passion for horses and spends most of her spare time at the barn, either doing chores or riding her gelding, Tempo. Another way she spends her free time is quadding and fishing at the cabin in Nordegg. She graduated from the Animal Health Technology program at Olds College in October 2019 and joined our practice in November 2019. She looks forward to spending time in surgery but also getting her large animal fix. Lakyn can't wait to see how the clinic helps her grow as a new tech.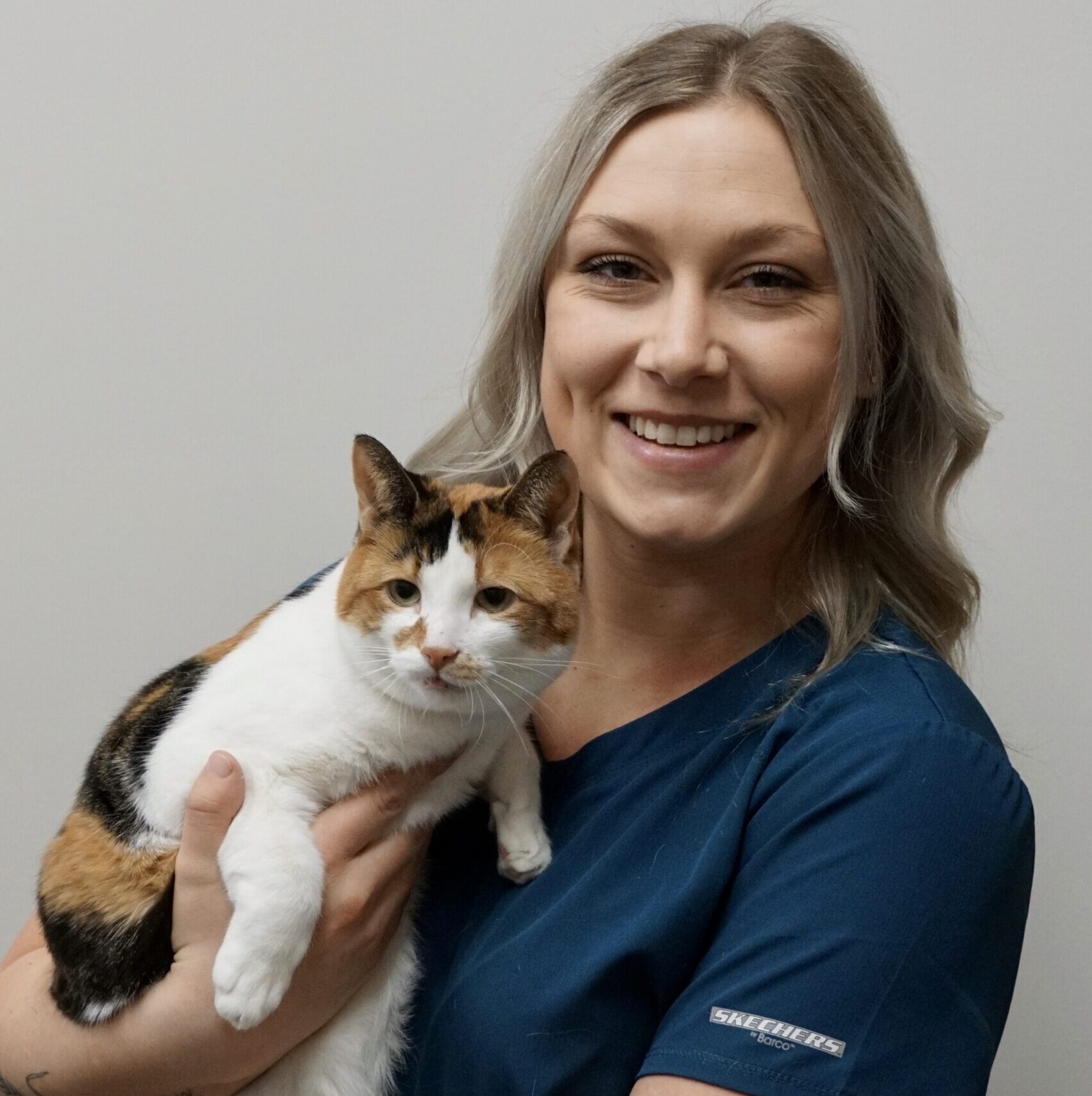 Hayley Warren
Registered Veterinary Technologist
Hayley is a small town girl from Vulcan, Alberta. She initially started school at the University of Lethbridge and decided to move to Olds for their AHT program, graduated in February 2020 and joined the practice March 2020. She has always had a passion for animals and the medical field. Hayley has 2 cats at the moment and is hoping to get a puppy very soon! Along with rugby, and spending time with family she also enjoys most outdoor recreational activities such as hiking and kayaking. She looks forward to working with as many cows as possible with Pioneer Vet!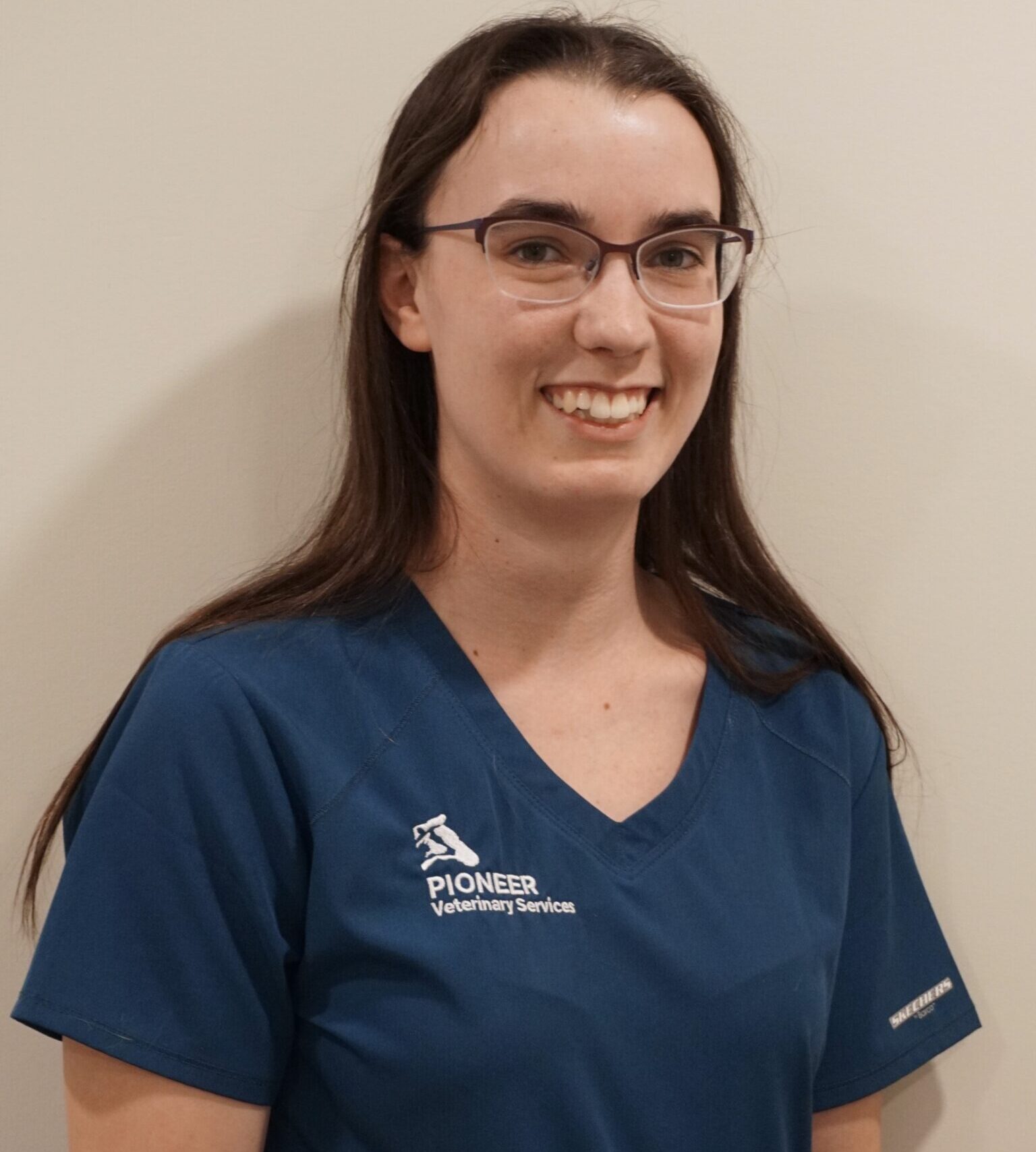 Danielle Bennett
Registered Veterinary Technologist
Danielle grew up on a mixed beef farm just outside of Innisfail. She graduated from the Animal Health Technologist program at Olds College in 2014 and joined the Olds Pioneer Vet family mid 2020. She enjoys curling, skiing, golfing and hiking in her spare time. Her favorite part of the job is definitely the diversity that a mixed practice brings; that every day brings something different. And of course the reason we all enter the field in the first place…. helping animals feel better. At home, Danielle has 2 dogs (Kasey and Keira) and one cat (Moo Moo).
Autumn Brown
Registered Veterinary Technologist
I was born and raised in Bedford, Nova Scotia.  After leaving a Fine Arts major, I was looking for a new adventure, which brought me to Alberta.  I lived in Calgary for about 6 years where I worked in the service industry and volunteered at a cat shelter;  Seeing the sick and injured improve in health from week to week was really rewarding and I knew I wanted to make a career out of bettering the lives of animals.  This lead me to pursue the AHT program at Olds College.  Since graduating, I have been lucky to find a home at Pioneer Vet where I get to live my passion everyday!  I share my life with two cats, Leo and Garfield, and my dog Lalune who enjoys camping and hiking with me on the weekends.
Taylor Pierunek
Technician Assist and Animal Health Technician Student
Taylor was born and raised in Sundre and currently resides on an acreage east of Sundre with her horse (Tipster) and 3 dogs (Tucker, Livy & Cache). Growing up with horses and dogs she always knew she had a passion for working with animals in any way possible. Taylor started with Pioneer Vet in December of 2020 and is currently in school taking the Animal Health Technology Program. In her free time Taylor enjoys snowmobiling in the mountains, hunting, horseback riding, and dirt biking. Her favourite thing about the vet industry is the differences we get to make in animals lives everyday, and of course the cute animals!